Daisy 600 (Aimstar 1500)

This large-caliber rifle was originally designed the Research Armament Industries of Jacksonville, Arkansas. The gun was manufactured and distributed by Iver Johnson's Arms (best known for their M1 Carbines); it was marketed as the company's "Browning Model 1500 Special Application" (the "Browning" coming from the fact that it fired the .50-caliber Browning Machine Gun cartridge).
When Iver Johnson's Arms went bankrupt and then reorganized, the rights to the rifle were apparently sold to Daisy in 1980s (and, yes, it is the company that sells the Daisy Air Rifles). At this point the rifle was renamed the Model 600, apparently in part because the gun was now offered in 14.5mm and 12.7x108mm chamberings as well as the .50 BMG.
The rifle is single shot and uses a bolt action to load and lock cartridges in place. The fluted barrel is free-floated without any handguard with the skeletal receiver supported by an integral bipod. A large muzzle brake (called an accumulator in company literature) helps tame recoil as does a thick recoil pad. The length of pull as well as the height of the cheek pad is adjustable. A pistol grip is used with the stock.
The standard scope sold with the rifle has a ranging system which, in theory at least, adjusts for bullet drop in one-hundred-meter increments from 300 to 1,500 meters regardless of the scope that is attached to the rifle, giving the shooter the option of using whatever scope he chooses and still having it capable of being compensated for known ranges.
---
If the article above was of interest, chances are you'll also enjoy these books by the same author:

Modern Sniper Rifles by Duncan Long This book gives a detailed look at the wide variety of sniper rifles used by various armies and police forces around the world. Included are .50 caliber, .308, and a variety of other calibers as well as a look at the older bolt-action and newer semiautomatic actions and how they compare in terms of accuracy. Marketed by Paladin Press.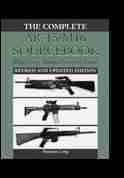 All-new, 2nd Edition of AR-15/M16 Sourcebook by Duncan Long This carefully researched, newly revised manual covers the history, military and custom spin-offs, grenade-launchers, SAW versions, and accessories of this popular firearm. If you own an AR-15, or would just like to learn more about this firearm, you need this book. Marketed by Paladin Press.


Protect Your Privacy: How to Protect Your Identity as well as Your Financial, Personal, and Computer Records in an Age of Constant Surveillance by Duncan Long Identity theft is at an all-time high. Protect Your Privacy gives you everything you need to know about protecting your computer security, financial and telephone privacy, identification, freedom of movement, and more! Learn to safeguard your privacy in virtually every situation—on the Internet, telephone, face-to-face, even with the government enforcing the Patriot Act. Stop scam artists before they have a chance to compromise your private information. From Lyons Press.


---
---
Copyright © 1996, 2007 by Duncan Long. All rights reserved.