filed in Book Cover Illustrations and Artwork on Aug.20, 2016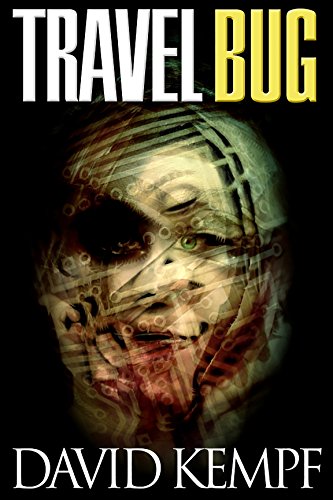 David Kempf's science fiction thriller Travel Bug is available this weekend in the Kindle format for free.
It's a good read and you can get a copy from Amazon.com.
Here's the synopsis for the book:
"A prestigious family is hiding a dangerous secret. It's deep within the walls of their grand estate. But no secret can stay buried forever.
When a wealthy young seminarian learns that his family has been trusted with a centuries old power, he decides to unleash it. The adventure takes him through the very ends of time, leading to a stunning ending that will haunt long after the story is over.
"This time travel novel follows in the tradition of books like Time Bound and Cloud Atlas, to take readers on an unforgettable sci-fi adventure."
The cover is a bit different from a lot of my other artwork. For this one, I started with illustrations of two faces, a computer circuit board, and some vents. These were layered and their transparencies adjusted, then all "flattened" into a single layer which I painted and modified digitally. Little by little, the picture gradually took shape. It's a long process, but the result is quite chilling, I think.
Kempf's book is a great read — and especially attractive since it's free today and tomorrow (and well worth purchasing if you miss out on his free offer).
=============================
Duncan Long is a freelance illustration who has created book and magazine covers for large presses as well as many indie and self-publishing authors. You can see more of his cover art at his online Gallery of Magazine and Book Cover Art.