filed in Book Cover Illustrations and Artwork on Nov.18, 2010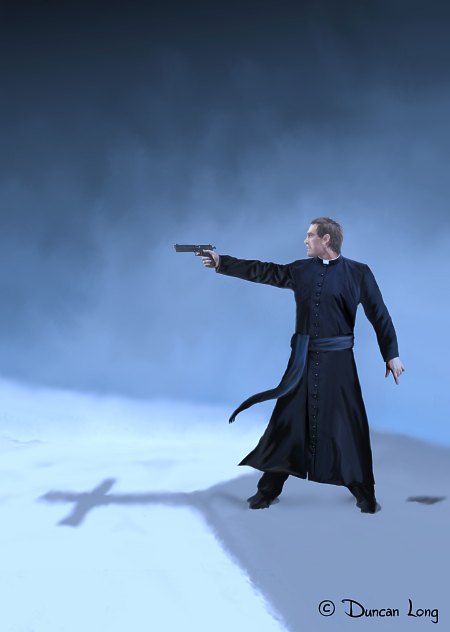 This is the preliminary cover illustration I've created for Dale Allan's upcoming mystery novel Lead Me Not Into Temptation.
We tried to capture the conflict in one of the key scenes in the book, in which a priest is faced with the moral dilemma of whether to take matters into his own hands, and perhaps take a life. To convey these opposing moral forces, I created a number of "conflicts" within the picture.
Obviously the gun in the hands of a man of peace is the first.
Beyond that, other conflicts are the "warmth" of love against the cold, snowy backdrop, the shadow of a cross where one might expect the shadow of the gun, and the priest in the shadows rather than in the light (Christianity identifying light with goodness and shadows with evil).
I also created a devil-like tail from the wind-blown sash and the blowing snow in the background reflects the moral storm raging within the priest.
At least that's the theory behind it all.
The final cover version of the illustration will likely have the blue toned down a bit and the priest's face will have more of a pained, questioning look rather than looking angry as in this version (which is hard to see at this resolution). We'll probably have a splash of red lettering for the title.
=====================
When not contemplating how to add hidden meaning to book illustrations, Duncan Long paints book illustrations for many small presses and self publishers as well as Pocket Books, HarperCollins, Fort Ross, PS Publishing, Solomon Press, ISFiC Press, and ILEX. You can see more of his book artwork at: http://DuncanLong.com/art.html
=====================