filed in Book Artist and Illustrator on Jun.07, 2012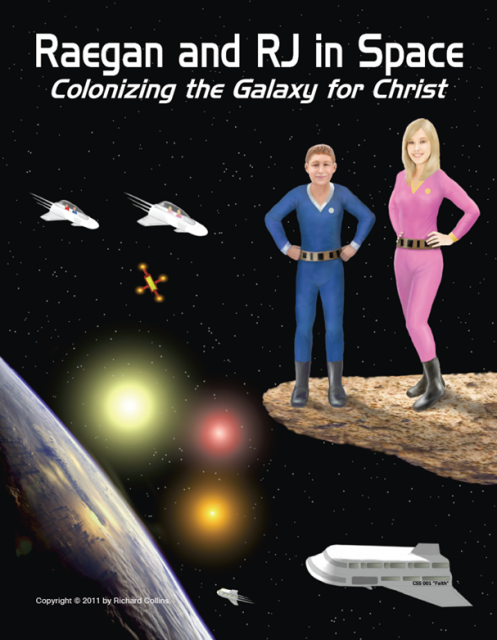 I got word today that the science fiction graphic novel trilogy of "Raegan and RJ in Space" is now in print and available for purchase. Written and illustrated by retired Army officer Richard Collins, these books are aimed at intermediate and YA readers. They're also unique in that they present a Christian message as well.
Here's the blurb from the publisher's website:.
Raegan and RJ in Space tells the story of the first Christians to leave Earth to colonize other star systems. The trilogy was written to give Christian kids a fun and interesting story to read with a happy ending. The story revolves around Raegan, a 13 year old girl, and RJ, an 11 year old boy, and their life on the colony ship CSS Faith.

Book 1, Christmas at Alpha Centauri, is set in the year 2025, and tells the story of Raegan and RJ and 5 Christian families travelling to the Alpha Centauri Star System to colonize it for Jesus. Book 2, Journey to Barnard's Star, is set in the year 2027, and tells the story of Raegan and RJ and 5 Christian families traveling to the Barnard's Star System to establish their second colony. Finally in book 3, Homecoming, the year is 2029, and tells the story of Raegan and RJ and the families returning to Earth for a heroes' welcome.
While the author handled most of the illustrations for the book himself (including very detailed plans of the spaceship and its inner compartments and systems), I was charged with creating covers for each of the titles along with a large poster of the space ships and characters.
The trick to these projects was consistently capturing the likeness of the two kids who appeared on each cover — but at different ages as the story progressed. Once the first characters were locked in, the real work began with book two and three, making them age so they looked older but were still recognizable. Fortunately the author/publisher was also an artist who could offer good suggestions when I painted myself into a corner a time or two.
You learn more about these YA science fiction adventures at the Raegan and RJ in Space web site.
===========================
Duncan Long is a book illustrator who creates artwork for a variety of genres including science fiction. You can see more of his artwork in Duncan Long's Art Portfolio.