filed in Book Cover Illustrations and Artwork on Nov.19, 2013

Here are several illustrations I've completed the last few days (and soon to go to my Premade Science Fiction Book Cover Artwork site).
The one below is a retro-rocket ship, similar to the rocket logo that often graced the spine of science fiction novels in many public libraries when I was a kid — so these retro "rocket ships" have always had a special place for me.
This retro-rocket actually started in the lower left corner of another illustration I did (below — in red and yellow).
Since I work at a higher resolution and larger size than will be needed for book covers, cropping a section of an illustration from the main picture and then altering the colors a bit makes it possible sometimes to have a secondary piece of artwork from an original.
This retro rocket design eventually made its way over to Amazing Stories. There my similar retro-rocket (in the image below) eventually was selected by Steve Davidson who is the editor of Amazing Stories for the revamped magazines' first official T-shirt. (The T-shirt version of the picture is sans Earth and 1960s' style space station.)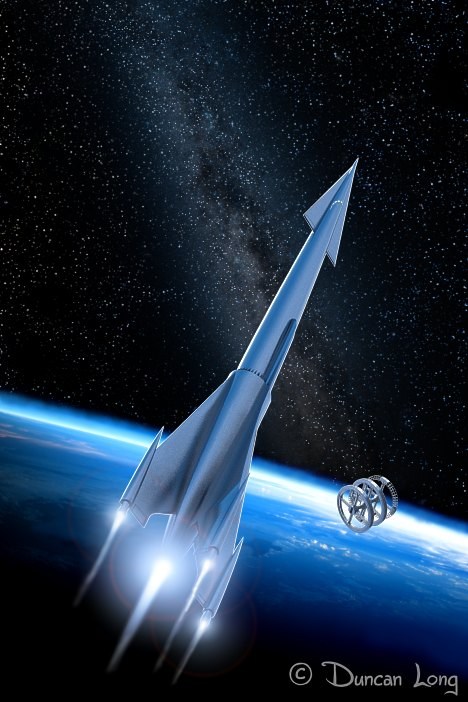 Of course it almost goes without saying that a retro science fiction collection of illustrations must include a UFO, so the third picture I completed yesterday just about had to have a flying saucer in it, right?
It is interesting that our own space flight has opened up the idea that nighttime cities can be viewed from space. Thus a picture like the one above can be recognized by most viewers as a very populated planet — something that would not likely have been the case back in the 1950s-1960s. Which is how it should be: Good science should always influence science fiction writing and artwork.
============================
When not drawing and painting UFOs and retro-rocketships, Duncan Long works as a writer/illustrator. You can see more of his science fiction artwork at Duncan Long's Science Fiction Art Gallery.