filed in Book Cover Illustrations and Artwork on Apr.29, 2015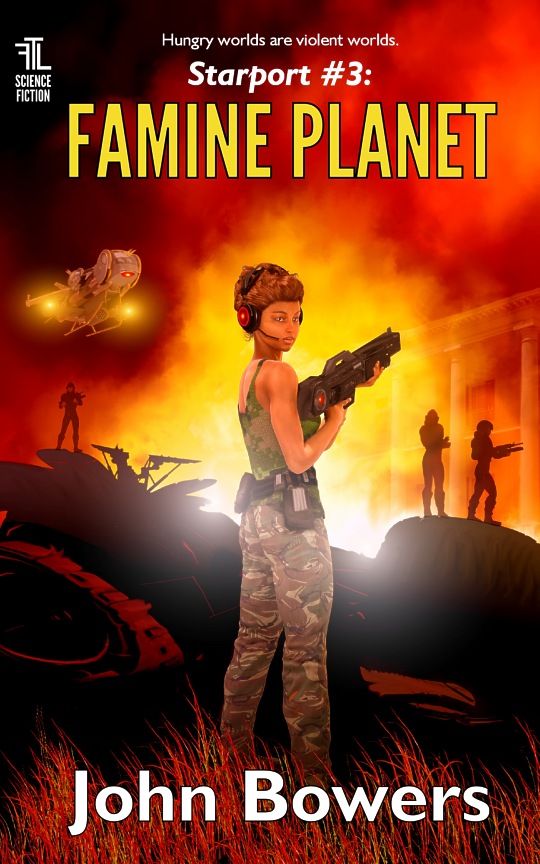 We've had a busy couple of weeks creating new book cover illustrations for some of John Bowers' science fiction "Starport" novels. Above is the final artwork created for book three in the science fiction series Famine Planet.
One of the main characters in this novel is introduced in the previous book of the series, and I'd created a 3D model for Guerrilla Girl (you can read more about this cover here).
So "she" was available to be employed for this next novel where she appears.I gave her some new armament and communications headphones, then a new pose, and she was ready to go back into active duty on the new cover.
The original "camera shot" above was not the character at her best. She's thin and having the arms extended to hold the gun put on the emphasis on spindly arms and a gun that seemed a tad to long. Interestingly, simply rotating her a bit without changing anything but her eye position greatly improved her appearance (below — with the rifle at the same relative length as above — only the angle of viewing changing).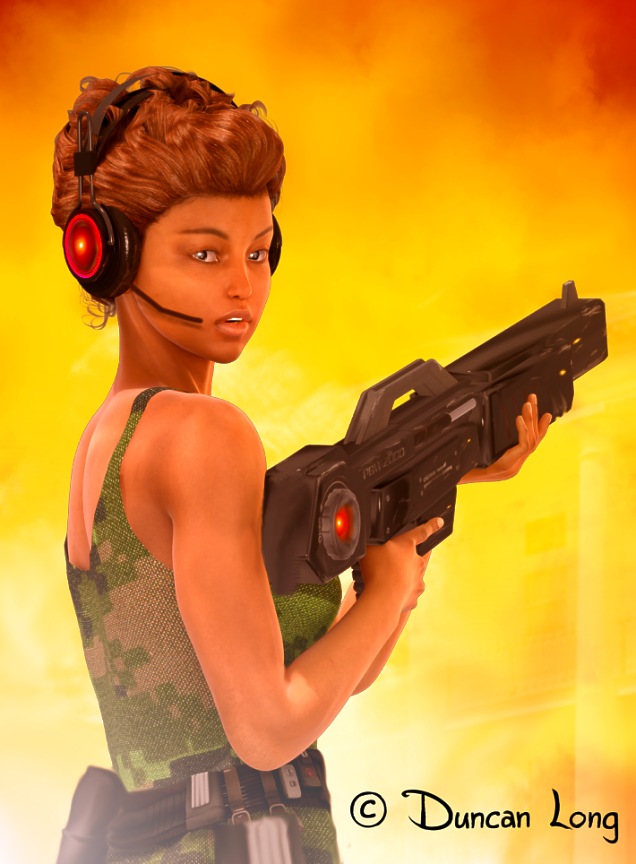 My original idea had been to have bunches of starving children surrounding her. So…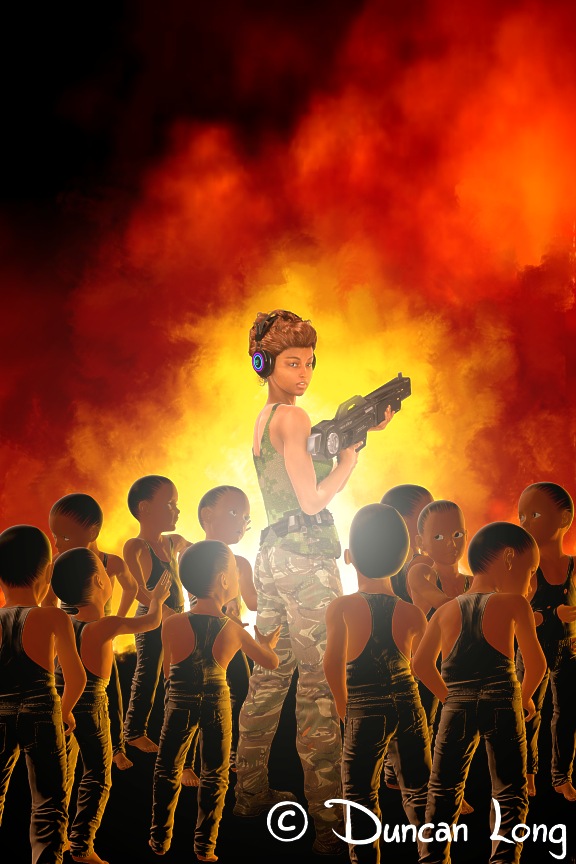 Which was interesting, but not very compelling and (I suspected) probably not an actual scene from the novel. So I scrapped the idea (the kids were painted on different layers from the soldier), and then added some torn up machinery/junk along with some futuristic soldiers to suggest a battle had taken place.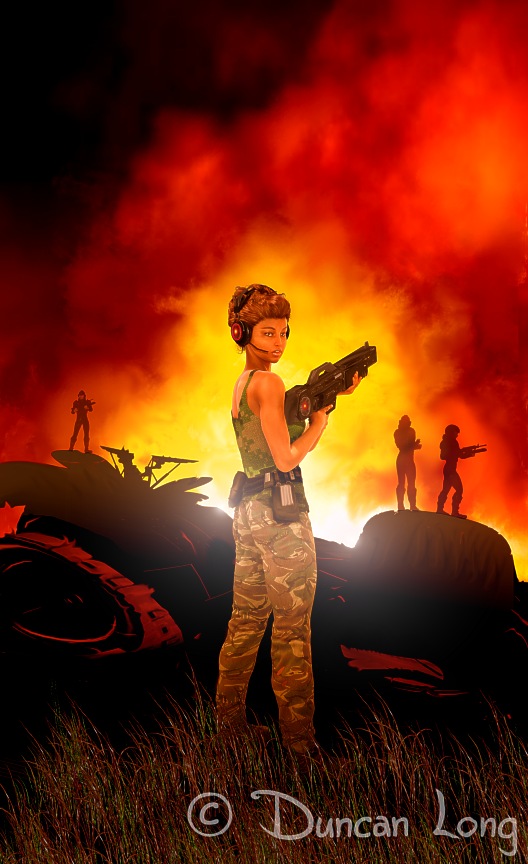 This idea appealed to the author, but didn't quite complete the scene he wanted. He suggested adding the military "sled" (troop carrier / gunship) from the previous cover. So I used that 3D model with a different position/camera shot, to create another element for the picture.
Here's the model with some lens flare and the proper background, coloring, and details painted in: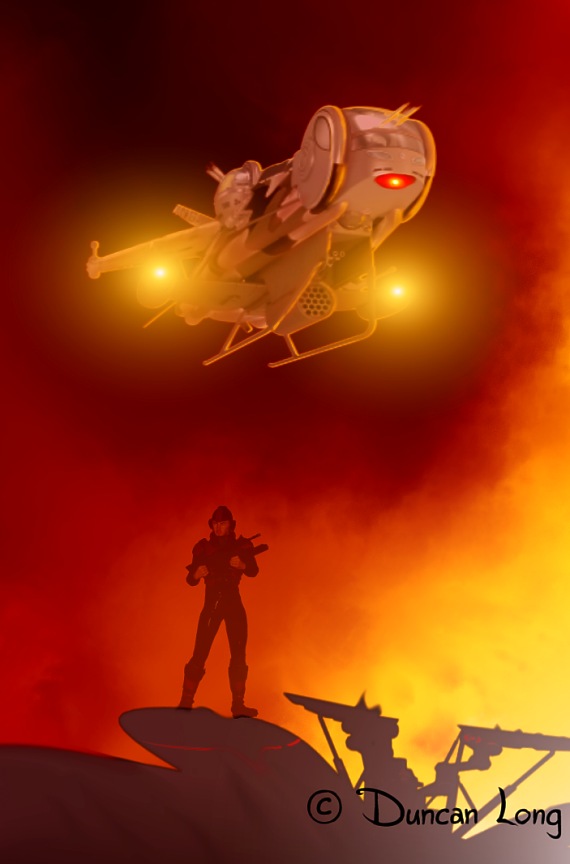 Finally, I also painted a very faint building on the right behind the two soldiers. This completed the illustration and, after approval, it was ready to drop into the cover layout I'd designed for the book. Done!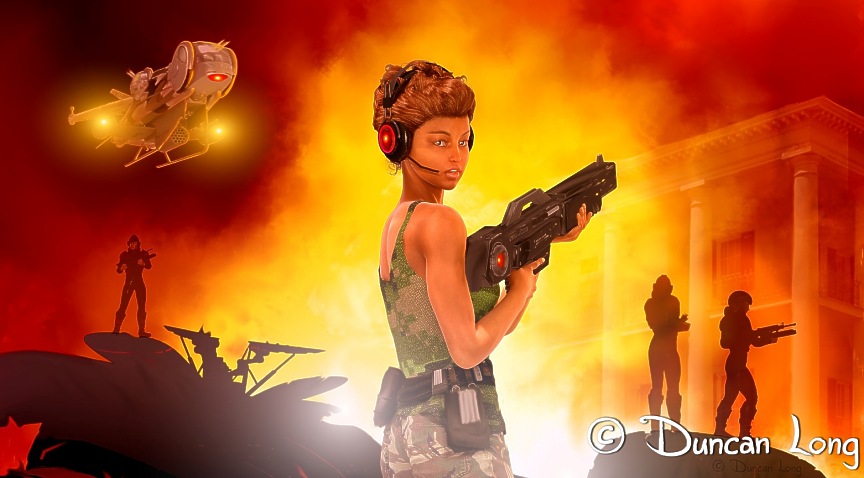 You can read sample chapters and find out more about Famine Planet at Amazon.com. If you like an exciting science fiction adventure, you'll love this novel.
=====================
Duncan Long creates science fiction illustrations for books and magazines. In addition to doing work for indie presses and self-publishers, he's created covers for HarperCollins, Amazing Stories, Pocket Books, Asimov's Science Fiction, Mermaid Press, and many other publishers. See more of his sci-fi artwork and book designs at Duncan Long's Book Cover Portfolio.