filed in Book Cover Illustrations and Artwork on Jan.19, 2016
I recently created an illustration (above) for my portfolio — or a book or magazine illustration should someone need such a picture. Given the odd combination of figures and background, it seems unlikely it will only be employed anywhere other than in my portfolio, though it is hard to say, especially given that once in a while an editor will use an odd piece of artwork as the basis of a story he asks an author to write.
And, yes, the dream-like qualities were skewered with a little humor by way of the "night mare" in the background.
To create the final picture, I first created a 3D model, experimenting with both the hair and skin tones. Here's my first work with a single 3D model, duplicated and rendered with different colors for both the hair and skin.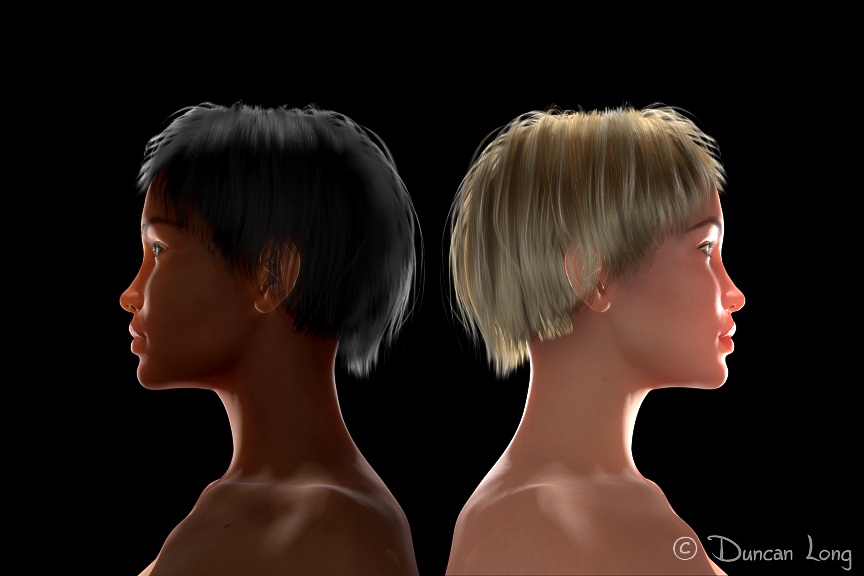 Since 3D models can be rotated and posed, it is easy to render a model in various lighting and from various angles once it has been created. Here's the same model with a more traditional "portrait" pose…
And here are a couple more with identical hair color/styles, but different skin tones. I decided for this project I preferred the left version for this project, and selected it for the final picture (at the top of this article).
The background and horse were generated as separate pictures along with a third of the model in a leather jacket, and then all were imported into my paint program as layers where the various features of all were greatly modified, lighting effects added, and so forth. Hours later, I had my vision of "London At Midnight."
===================================
Duncan Long is a magazine and book illustrator who likes to employ 3D modeling as the starting point for his artwork. He has created cover art for Asimov's Science Fiction Magazine, HarperCollins, Muse Magazine, Pocket Books, Amazing Stories Magazine, and many other presses and self-publishing authors. See more of his illustrations in his Art Portfolio.