filed in Book Cover Illustrations and Artwork on Jan.20, 2016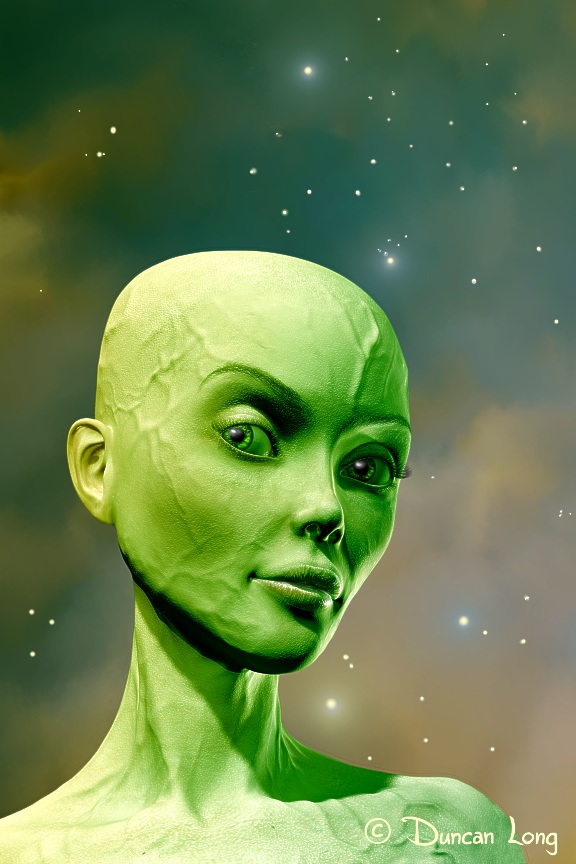 I often experiment with 3D characters that I build from base figures, modifying them extensively according to my whims. This generally gives me some insights into lighting as well as useful painting techniques when I import the renders into my paint program. Little by little I pick up new tricks and techniques for my illustration work — while having a lot of fun along the way.
This "Plant Woman" was created last Halloween, and comes complete with green chlorophyll skin, and strange veins that carry sap through her body.
From the front, she pretty human. But as the model is rotated, her pod-like head becomes evident:
I'm not sure where my plant woman will appear in print (or even if she ever will). But I'm betting she'll eventually be an illustration for a science fiction magazine story or book cover.
In the meantime, I've had a little fun, and also have a 3D character waiting in the wings should she be needed for an art project.
======================
When not creating artwork of mysterious plant women, Duncan Long works as a freelance illustrator for a number of large and small presses, as well as self-publishing authors. You can see more of his artwork at: Duncan Long's Book Art Gallery