filed in Book Cover Illustrations and Artwork, Book Illustrator and Book Illustrations on Feb.01, 2011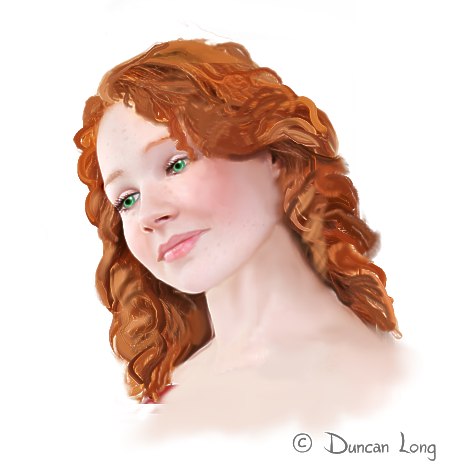 A character sketch created for the book cover I'm working on for Suzy Dingle's YA novel Shamazan. We needed a "girl next door" look – and hopefully this works for that.
The book cover itself is proving challenging due to the variety of light/dark areas, including a glowing liquid. Getting everything to work is a juggling act – and a lot of fun with a lot of surprises and experimenting along the way.
Hopefully I'll have a cover layout or two for this title that I can share before too long.
=====================
Duncan Long is a freelance magazine and book illustrator for HarperCollins, PS Publishing, Pocket Books, Solomon Press, Fort Ross, ISFiC Press, and many other publishers and self-publishing authors. See his book illustrations at: http://DuncanLong.com/art.html
=====================