filed in Book Cover Illustrations and Artwork on Jun.20, 2011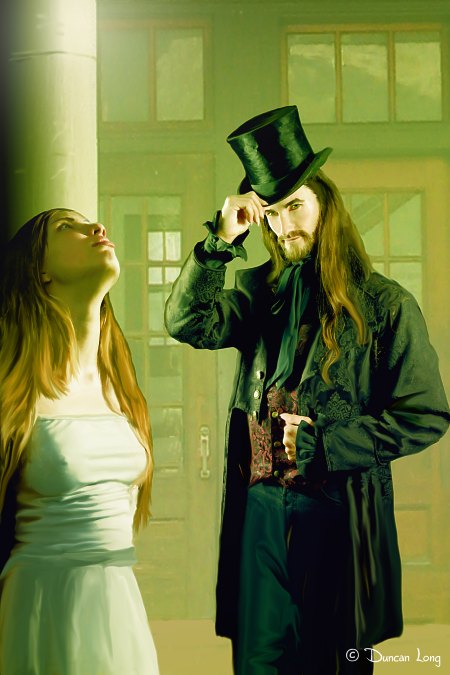 This was my weekend project — a speculative "book cover" that as yet doesn't have a client interested in buying the illustration. But hopefully before too long it will find a buyer (and my experience has been that such artwork eventually finds a home — and I also have a whole lot of fun creating illustrations with no restraints as to subject matter, layout, and so forth).
If you're in a betting mood, I would bet this one might appeal someone needing a horror book cover illustration. What? No one wants to bet?
My basic premise in creating this illustration was that Jack the Ripper might be one of those serial killers that, when you passed him on the street, might seem somewhat sinister, but otherwise appeared normal, was well dressed, and was very polite.
Perhaps.
And likely his victims might debate the "polite" part.
I should note that the future victim in this artwork is portrayed looking skyward for a reason. My thought was to create an "innocent" look, as if the young lady was a sacrificial victim, bound to a pole, looking toward Heaven. I added a slight glow to the top of the column, hopefully giving it a somewhat magical look as well. Perhaps my recent work on Joan of Arc has influenced me here. Regardless, hopefully this somewhat unorthodox pose adds a little interest if not a twist to the historic tale of terror created by the criminal known as Jack the Ripper.
=====================
When not daydreaming about Jack the Ripper, Duncan Long creates book cover illustrations for a number pf presses including HarperCollins, PS Publishing, Pocket Books, Moonstone Books, Enslow Publishers, and many other publishers as well as self-publishing authors. You can see more of his book cover illustrations at Duncan's Book Cover Illustration Portfolio
=====================