filed in Book Cover Illustrations and Artwork on Apr.03, 2012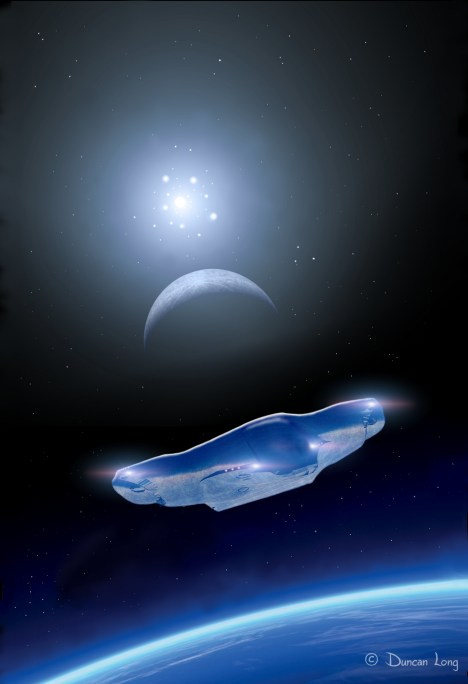 Yesterday the cover for best-selling author John Phillip Backus' science fiction novel Jen of Earth was completed. The book is the first of a series of sci-fi adventures. The cover illustration was created by combining elements of two previous digital paintings I'd created which the author had selected as models for his cover.
The two parts were the organic spaceship in "When Monsters Come Down Maple Street"…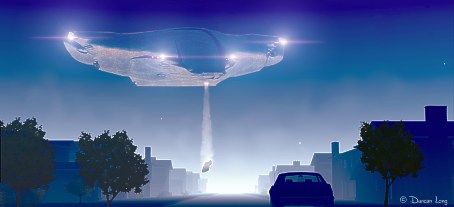 … and the space background, sans spaceship, of "Interplanetary Travelers":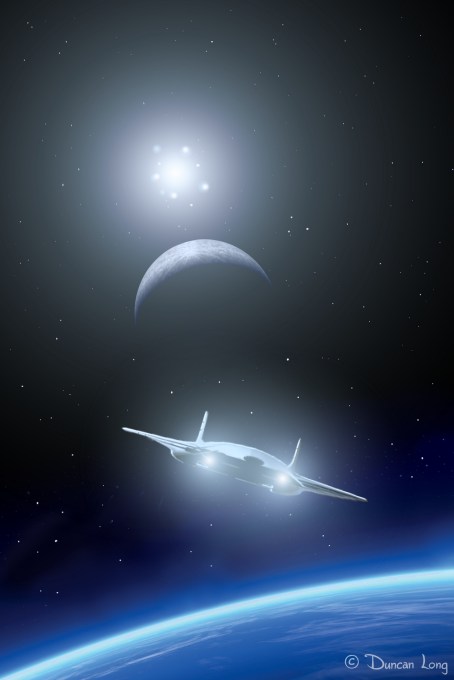 After the two parts were combined, we fiddled a bit with the layout and star cluster, and at one point it became binary suns, but these proved to lack the "space dust glow" that the author wanted to see on the cover.
Once the illustration was to the liking of all involved in the project, Backus did the final layout himself, adding a favorite typeface over the illustration (I personally love the way the "R" curves along the moon, and the star cluster shows through the "O"). And that completed the front cover for this science fiction novel which will launch this new series of stories.
You can read more about this science fiction novel at John Phillip Backus' site.
====================
Duncan Long illustrates book and magazine covers for a variety of genres including science fiction, fantasy, mystery, and horror as well as creating technical drawings for non-fiction books. His artwork has appeared on the covers of a number of science fiction novels from self-publishing authors, small publishing houses, as well as large presses. Discover more of Duncan's science fiction illustrations at: Duncan's Illustration Gallery
=====================