filed in Book Artist and Illustrator on Jun.03, 2012
This is another installment of my picks of my own favorite artwork from various categories. This time it's horror artwork (hopefully not to be confused with "horrid" art).
Some of these horror illustrations have actually appeared on book or magazine covers. One (the serpent Satan shaking his fist at Heaven) even appeared on the cover of a religious magazine. But most have not yet gone into print (and so the cover rights are available for purchase — hint, hint). Published or not, they're my choices of what I consider to be my best artwork in the horror category.
Since some of the artwork needs to be viewed at a larger size than is practical with WordPress layouts, I've packaged the entire collection on its own page here: 23 Horrifying Horror Book Cover Illustrations by Duncan Long
I'm not sure "enjoy" is the proper admonition with horror pictures (unless you're very, very warped). Perhaps the promise that some illustrations may scare your socks off? Or make blood squirt from your eyes? Well, perhaps not given that some disenchanted clown will bring a lawsuit.
So just go see the danged pictures, all right?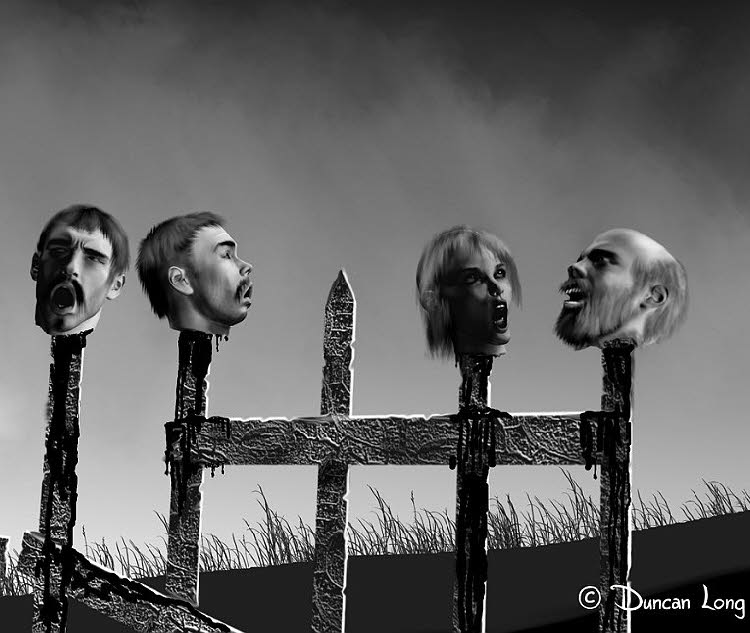 For those who want to see some excellent horror artwork by other horror illustrators, here are my top picks:

Paul Mudie
Edward Gorey
Alan Clark
And a huge gallery of horror (and SF) book cover artwork

================
When not trying to scare the socks off viewers, illustrator Duncan Long works in his home studio with a battle ax always near by. Sometimes during breaks from his artwork, he stands in the back yard screaming at the invisible flying monkeys overhead.