filed in Book Cover Illustrations and Artwork on Feb.19, 2016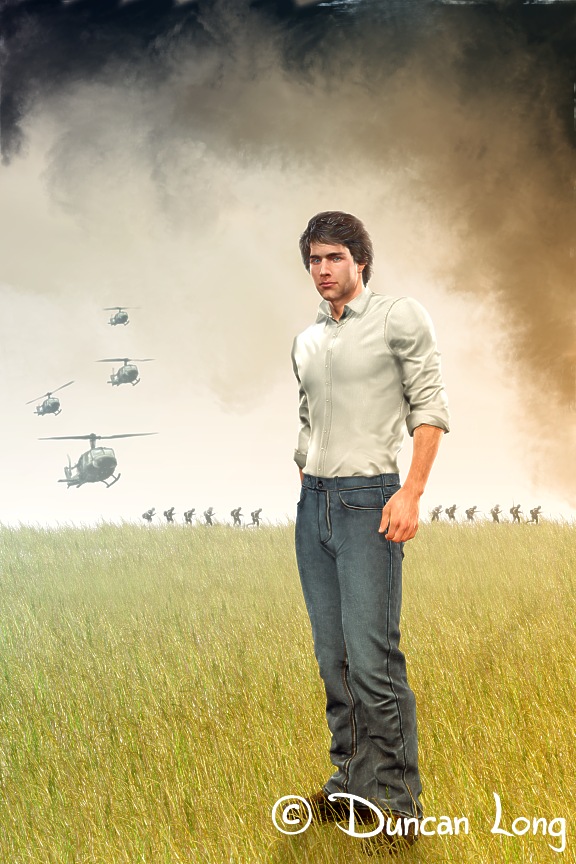 Once a character design is settled on (you see how I go about doing this when working with an author and/or press in my previous blog post: 3D Modeling and Book and Magazine Art), we are ready to move on toward actually creating the final cover illustration (like the one shown above for Bill McCausland's novel In the Mouth of the Wolf).
My next step after finalizing the basic character is to create another "sketch" like the one shown below, which tacks down the character's expression and hair style.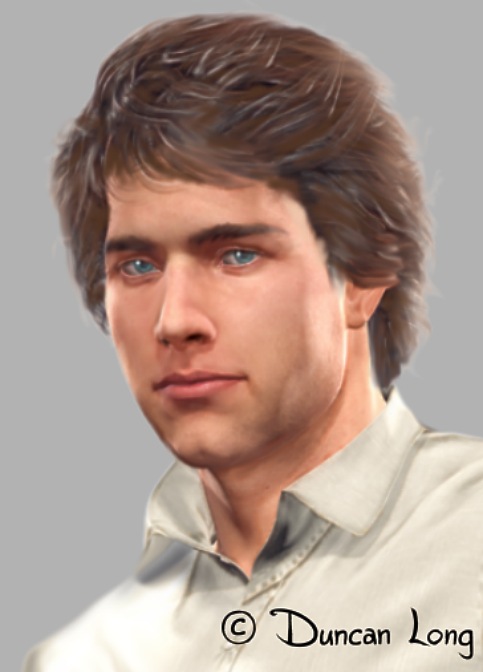 Once that is finalized (along with his costume — in this case casually dress with jeans, shirt, and sneakers) and gets the client's OK, we must determine the pose. Since I was working with a 3D model, I was able to quickly pose the character and create the low-resolution renders below.
The author liked the third pose, so (after discussing several ideas for what might be a suitable background) I was set to create the whole illustration.
The beginning of the story is set in Vietnam during the US involvement there in the 1960s/1970s, so I opted for a simple design that gave a hint of what a bit of the story would be about, while leaving the character in the foreground in very un-soldier-like clothing and hairstyle. By keeping the background sort of foggy/hazzy and obviously a battle scene, with the foreground very un-militaristic, the result is a dreamlike picture that hopefully suggests a memory or flashback.
After I'd painted in various elements of the scene and added/modified the render of the character to the foreground, my next step was to create a "dummy" (mockup of the cover) with lettering so the press and author could see how everything could fit together in the final a cover layout. This is the point where I cross my fingers and hope my "vision" of the cover is what the client wants to see as well.
In this case, everyone liked the results so I created a final, polished version of the picture at print resolution, and sent it to the press for the final layout of the book cover.
===============================
Duncan Long is a freelance illustrator who creates book and magazine illustrations for indie publishers, self-publishing authors, and large publishers. See more of his artwork at Duncan Long's Online Portfolio.