filed in Book Artwork and Illustrations, Book Cover Illustrations and Artwork on Feb.15, 2011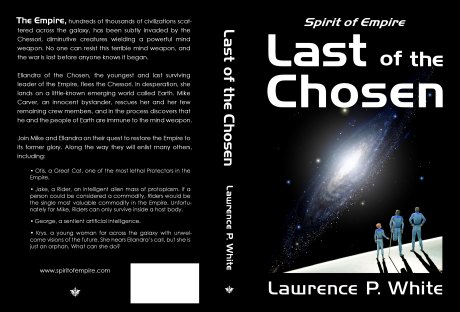 One of last week's projects consisted of a re-working of the cover of Lawrence P. White's novel. The new book is actually two books combined into one, giving readers a two-fer when they buy it.
The original title (now the first half of the new book) was Spirit of Empire. That became the subtitle with the new title becoming Last of the Chosen.
More good reading.
=====================
Duncan Long is a freelance magazine and book artist for HarperCollins, PS Publishing, Pocket Books, Solomon Press, Fort Ross, ISFiC Press, and many other publishers and self-publishing authors. See his book illustrations and graphic design at: http://DuncanLong.com/art.html
=====================