filed in Book Cover Illustrations and Artwork, Book Graphic Design on Mar.15, 2011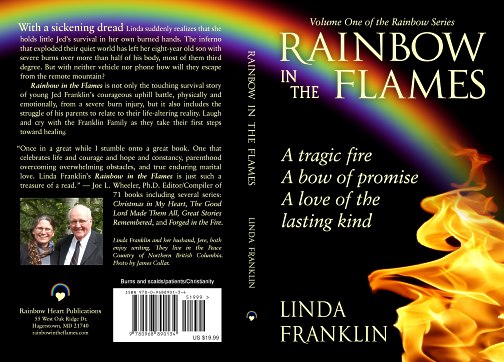 One of this week's projects, the cover illustration and design for Linda Franklin's Rainbow in the Flames, a true story of tragedy turned into triumph through the love and perseverance.
The tricky part of this cover proved to be arranging the rainbow so it would cross the spine, show on the front in the proper place to join the flame, but still not interfere with the lettering on the spine or back.
By holding my tongue just right while working, I managed to get it right.
Although it doesn't show on this small reproduction of the cover, I also created a tiny logo for Rainbow Heart Publications, a rainbow over a golden heart.
=====================
Duncan Long is a book artist and illustrator who has created book cover artwork for PS Publishing, Pocket Books, HarperCollins, and many self-published authors. See more of his book cover artwork and illustrations at: Duncan's Book Cover Illustrations and Graphic Artwork
=====================