filed in Book Cover Illustrations and Artwork, Book Graphic Design on May.19, 2011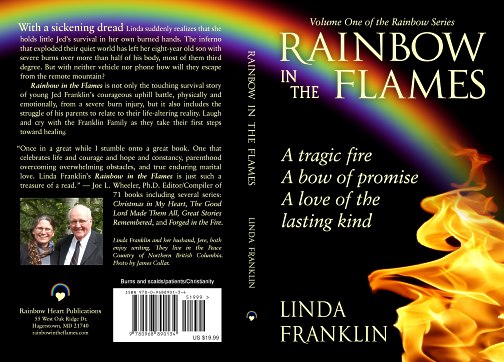 I received word that Linda Franklin's Rainbow In the Flames is now available at the author's web site.
Rainbow in the Flames is not only the touching survival story of young Jed Franklin's courageous uphill battle, physically and emotionally, from a severe burn injury, but it also includes the struggle of his parents to relate to their life-altering reality. Laugh and cry with the Franklin Family as they take their first steps toward healing.
It's always a joy to create a the book cover illustration and layout for an inspirational title like this. And it's even better when it gets into print.
(You can read more about the creation of this book cover illustration and other graphic elements that went into the cover design in my previous blog post.)
====================
Duncan Long designs book covers and also creates book cover artwork. You can see more of his book cover artwork at his Portfolio
=====================