filed in Book Cover Illustrations and Artwork on Feb.07, 2012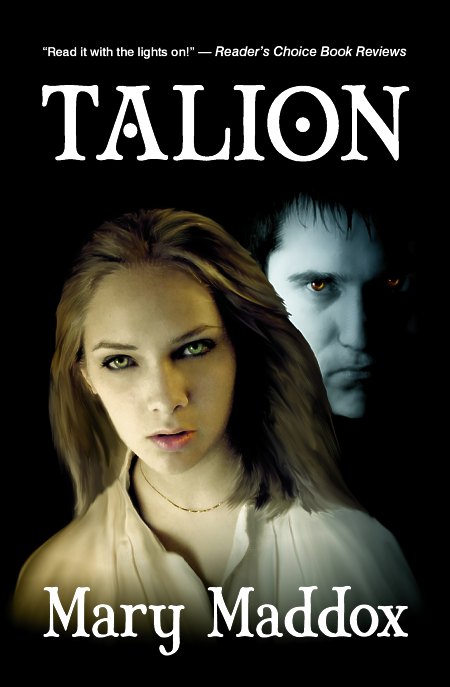 Rounded up the illustration and layout for the cover of Mary Maddox's Talion novel. This paranormal thriller is a good read and when the book with this cover becomes available, I'll be posting a link to it.
And, yes, the book is already in print (and can be ordered here),
Why the new cover? The author and publisher felt a better cover would help sales.
So I was tasked with creating an illustration that captured the innocence of the central character (an attractive young woman) with the added menace of a sociopath in the background — and some hints of supernatural elements in the story as well. I think we achieved that as it is (at least to my eyes) somewhat terrifying and menacing without any actual threat — and no blood or gore (ha).
The story has some serious thrills. A reviewer at the Charleston Times-Courier wrote this about the book, "Silence of the Lambs meets The Turn of the Screw…. The story is propelled by suspense, and made delicious by Maddox's Ray Bradbury-like gift for deft, deep-shadowed description."
====================
In addition to painting pictures of sociopaths, Duncan Long illustrates book and magazine covers. His artwork has appeared on a number of books from self-publishing authors, small publishing houses, as well as large presses. See more of Long's illustrations at: Duncan's Book and Magazine Illustration Portfolio
=====================