filed in Book Cover Design on Apr.15, 2012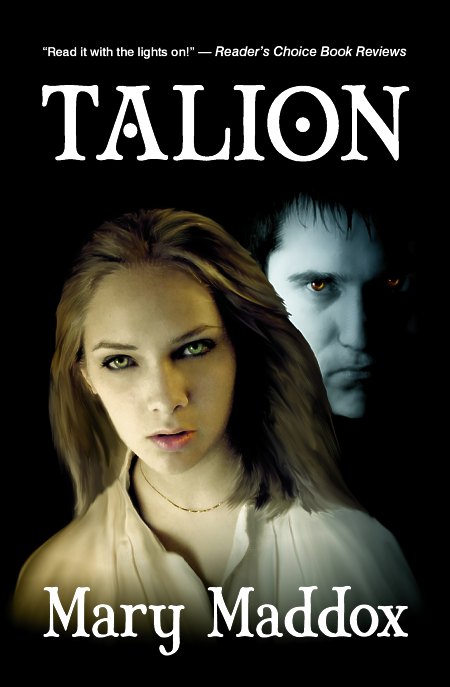 Author Mary Maddox recently wrote of her experience in choosing an effective cover for her novel Talion. Originally she'd selected a very attractive, abstract photo for the cover — yet it failed to sell the book. At a book signing, one blunt person who told her, "I'm not buying your book because I don't like the cover. It tells me nothing. I have no idea what the book is about."
Ouch.
Fortunately, the author thought over the rude comment and realized there was an element of truth to it. The abstract cover was attractive, yet failed to convey any insight as to the genre and subject of the book. The story encompasses horror, mystery, and the supernatural, yet the cover art reflected none of this.
So, Maddox set out to find a new cover illustration. (Rather than write more about how Maddox went about finding and choosing her cover artist and her thoughts about the importance of selecting a suitable book cover, I'll direct readers to her blog when she offers some tips about choosing the right cover art for your book.)
Cutting to the chase, I was called upon to create a new cover illustration that would display two characters from her story. My cover illustration wasn't nearly as beautiful as the first, yet it will likely serve the book much better because the faces on the cover will help the book connect with potential buyers, and the lighting, colors, and expressions reflect the horror, suspense, and mystery genres the tale encompasses.
To tack down the feel of the story and genre just a tad more, I selected a typeface that was a little misshapen and ominous, giving the lettering a sinister feel that complemented the tone of the story.
When we'd finished, we had a cover that conveys the ominous tones of the book (which a reviewer at the Charleston Times-Courier described as "Silence of the Lambs meets The Turn of the Screw…. The story is propelled by suspense, and made delicious by Maddox's Ray Bradbury-like gift for deft, deep-shadowed description.")
And, yes, it's the book is the proverbial "good read." You can read samples from the book (as well as buy a copy) at Amazon.com.
====================
Duncan Long illustrates book and magazine covers including those needing new cover art. His artwork has appeared on a number of books from self-publishing authors, small publishing houses, as well as large presses. Find other samples of Long's book art at: Duncan's Book Art Portfolio
=====================