filed in Magazine Illustrations on Jul.22, 2014

I'm happy to announce that I've now officially painted Roger Rabbit — well, sort of. Actually just the ears.
I created the illustration above for an excerpt from the 3rd book in the series written by the original Roger Rabbit creator, Gary K. Wolf. The excerpt appears in Amazing Stories Magazine and you can go directly to it here: "Who Whacked Roger Rabbit?"
Creating the picture was a little tricky since the likenesses of the three main characters are trademarks. Rather than try to cut through loads of red tape the editor and I decided to create new characters. And since I'm no cartoonist, the rabbit was in the hole where he first appears in the story.
Yes, I also did a separate picture of Jessica Rabbit — but she wasn't used in this final version that appears at Amazing Stories Magazine.
Here are a couple of other illustrations that weren't used: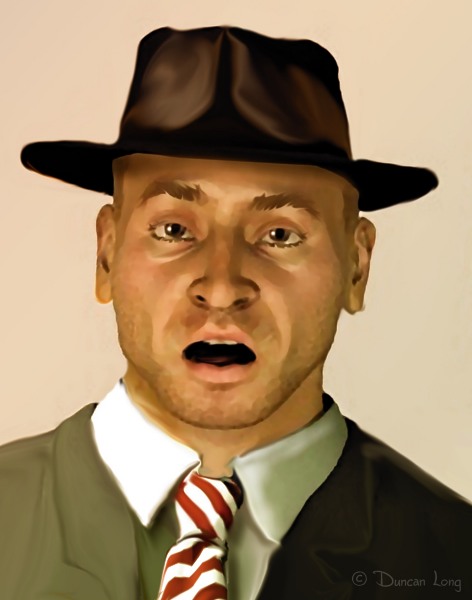 ==============================
When not painting cartoon rabbit ears, Duncan Long works as a writer/illustrator. You can see more of his artwork at Duncan Long's Online Gallery.