filed in Book Cover Illustrations and Artwork, science fiction book covers on Apr.28, 2015
We've had a busy couple of weeks creating new cover illustrations for some of John Bowers' science fiction "Starport" series. Above is the final illustration and layout of the updated cover for Occupy Eroak.
As is often the case, I created several several versions of the illustration before we finally got to something that worked well. Perhaps the most interesting is this brunette version of the final cover art (which is one of those "close, but no cigar" things often encountered when working on book covers):
:
It just didn't work as well as the blond version, in part because of the contrast with the shadowed area of the planet behind her (and possibly the blue/purple armor).
Previous cover pictures didn't work at all. I'd created a 3D model for this project, which allowed me to pose the character in a variety of ways, and then painting "over" that model, adding features in front of and behind her to unify the concept.
But having that 3D model didn't make creating the cover a piece of cake. Here are a couple of attempts that just did not work: .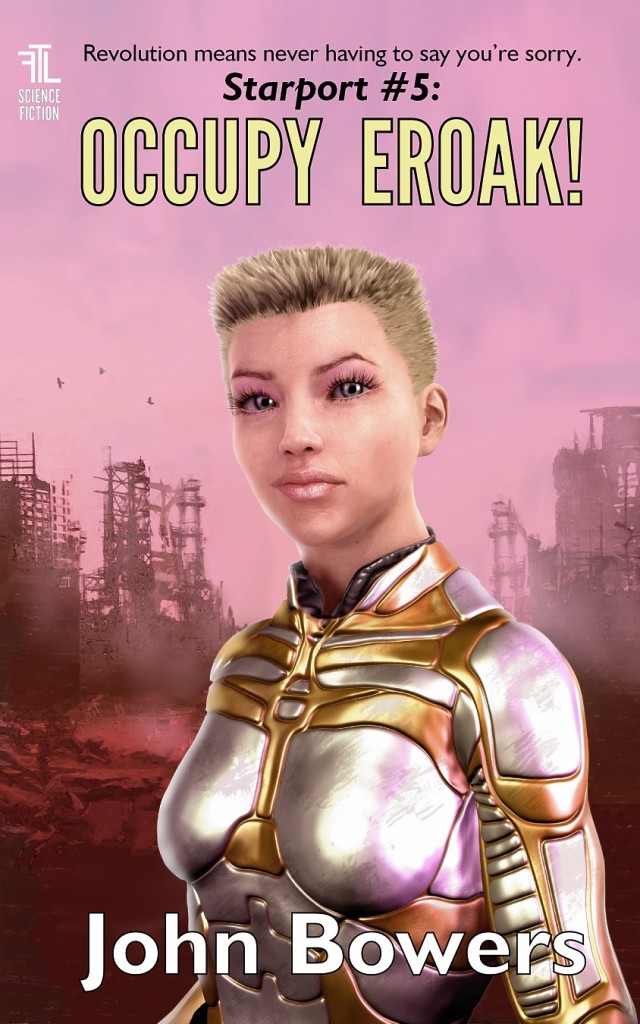 And…
Part of the problem with these two "head-on view" figures was a lack of dramatic lighting and shadows. However, I think the main reason these didn't work was simply that this character looks much, much better in profile where you can see her hairdo and sharper features. Head-on she has a baby face and her hair just looks short rather than flat-top short. So, yes, even computer characters have their good and bad sides when it comes to posing them.
In the end…  we decided blonds would have more fun on the updated cover for John Bowers' book. Ironically, this was the first version (below) that we started with before our "wandering in the wilderness" of alternate versions. Sometimes you have to life in the boondocks a while before you appreciate what you've left. That was the case this time, and a few lessons were learned as well.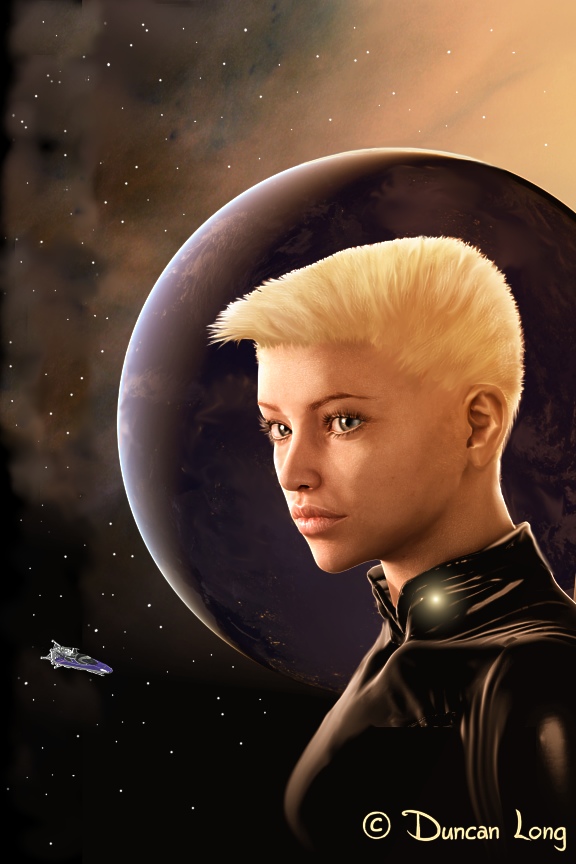 You can read sample chapters from this book (as well as purchase the Kindle version) at Amazon.com. If you like science fiction adventure, check out the whole Starport series.
=====================
Artist Duncan Long creates book cover illustrations for many genres including science fiction, action adventure, and fantasy novels. His clients inclue many indie publishers as well as self-publishing authors. He's created covers for HarperCollins, Amazing Stories, Pocket Books, Asimov's Science Fiction, Delta Press, and many others. See more of his book cover artwork and designs at Duncan Long's Art Portfolio.