filed in Book Cover Illustrations and Artwork, Digital Painting on Feb.04, 2011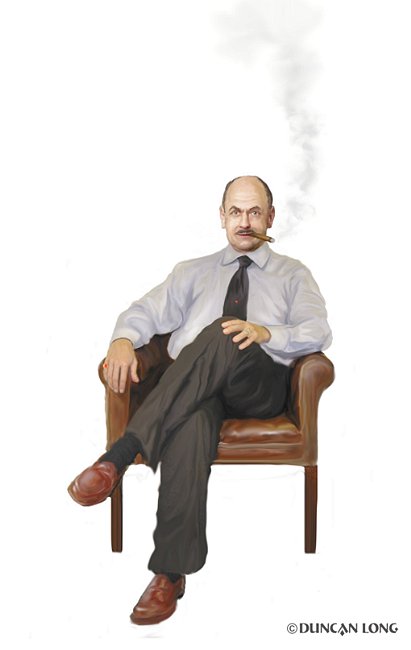 Although I used to work in oil paints and pen and ink, today my illustrations (like the one above for George Blackburne's The Reverse Multiplier Effect) are all digital, painted by pushing electrons across the screen with a Wacom digital tablet and pen.
The sizes of the paintings I create for book covers are generally not much larger than the final book cover will be – perhaps larger by a few inches to make getting the finer details into the picture a tad easier. But they're not the huge oil paintings that book illustrators of the past made.
Of course on a computer screen they seem large and detailed. That's because most monitors show picture at 72 to 96 dpi (dots per inch) while print is generally created at 300 dpi. So basically there's three times as much detail as in the picture above with the "paintings" I create digitally. But they still aren't as large as one would expect. And, yes, I do miss the smell of oil paints; can't reproduce that by pushing electrons.
By way of software, about 99 percent of my work is on an ancient version of Corel PhotoPaint. I've customized the keyboard commands and also have pen gestures to pull up often-used plugins, so do most of my work without having to fiddle with sliders or icons to change brush size, change from one tool to the other, and so forth — much, much faster.
The other plus of PhotoPaint is that I've worked with the same version of the program (Version 8 — the newest is 14, I think) for about 10 years now, so I know the thing by heart (including some of the glitches that Corel never fixed) — I can almost think it and the picture is done.
Well — just about (ha).
But no fussing with the commands or program. Just free to think and explore as I work.
On the downside, PhotoPaint is not industry standard and not really designed as a painting tool. So for those starting out, I recommend Photoshop or Corel Painter just to avoid compatibility problems on projects — as well as to land a job since many employers require Photoshop know-how.
But for a rebellious freelancer like me… I wouldn't work with anything else.
=====================
When not crowing on his blog about the work he does, Duncan Long pushes electrons to create magazine and book illustrations and artwork for HarperCollins, PS Publishing, Pocket Books, Solomon Press, Fort Ross, ISFiC Press, and many other presses and self-publishing authors. You can find more of his book illustrations and artwork at: http://DuncanLong.com/art.html
=====================