filed in Book Cover Illustrations and Artwork, Book Graphic Design on Jun.03, 2016
I've created two graphic novels of sorts (Witches and Fish and The Raven — both available from Amazon.com as well as the artwork for the Werewolves of New Idria written by John Chadwell). However, while these three books meet the requirements of being sequential, telling a story, and being supported by artwork, aren't in the "comic strip."
So…
I thought I'd create a mockup using the comic style of the old Warren Publishing's Creepy magazine style (of the 1960s). Here are some of the results of the very limited edition (of one) of Pulper Magazine.
First, the cover illustration (with the lettered version shown above)…  sort of a combo skeleton and cyborg: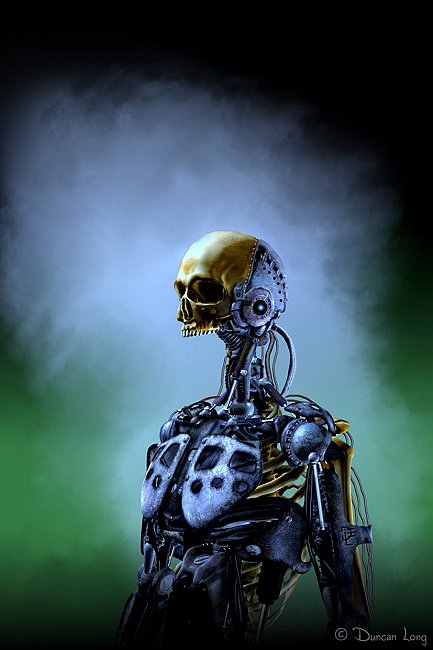 And some pages of strips… with uncompleted stories. Perhaps one day to be completed:
With a "sequence" showing a terrifying transformation:
A winter scene — with the second panel "borrowed" from my The Raven graphic novel.
Finally, an old story lifted from the Bible since the plot seemed very much like something that one might find in Creepy magazine (at least to my twisted mind). Oddly enough, the two hardest parts with this page were getting all the text fit into one column, and deciding whether the story's author should be listed as "God" or "Moses." I finally settled on the latter.
Of course the other trick was keeping Eve from becoming X-rated in the artwork. No small feat given she's nude through most of the story.
So…  there you have it. Now if some kind publisher will bite (preferably a non-werewolf bite… with a writer who has the panels and story already figured out), I'm ready to go.
========================
When not drawing graphic novels and spinning yarns, Duncan works as a book and magazine cover illustrator. You can find his magazine and book cover portfolio at Duncan Long's Book and Magazine Art Portfolio.