filed in Book Cover Illustrations and Artwork on Apr.29, 2010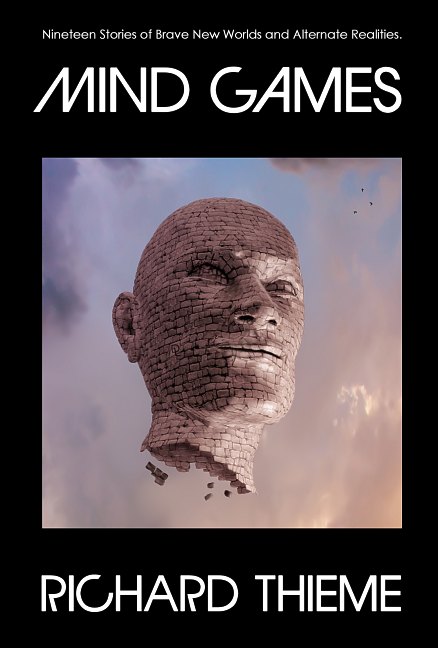 As readers of my past posts know, I occasionally work as a graphic designer, laying out books I create illustrations for. One such book was Richard Thieme's Mind Games which I also "published" under my Duncan Long Publications imprint. With all the work that went into this book, it is a bit nearer and dearer than most of my other book projects.
The book itself is a unique collection of 19 stories of brave new worlds and alternate realities. The stories have all been previously published in literary, slipstream, and science fiction magazines and anthologies.
Here are some of the review it has received:
"The depth, complexity, and texture of Richard Thieme's thought
processes break the mold." Brian Snow, Senior Technical Director, NSA (ret)
"Thieme's ability to communicate complex, abstract concepts and
personalize them is like verbal origami." – Jeff Moss, Director, Black
Hat, a division of TechWeb/United Business Media, and a member of the
DHS HSAC
"Silent Emergent, Doubly Dark" is … very imaginative writing, with a
complexity that raises [the story] to the fringes of slipstream. We're
left wondering what's real and what's not …." Steven Pirie, The
Future Fire
"Beautiful descriptions and intriguing concepts …" The Fix (UK).
"Thieme's clarity of thinking is refreshing, and his insights are
profound." Bruce Schneier, security technologist and author.
"The reader is left reeling, dizzy with insight." Robin Roberts,
Information Security R&D, CIA (ret)
"Richard Thieme takes us to the edge of cliffs we know are there but
rarely visit. He wonderfully weaves life, mystery, and passion through
digital and natural worlds with creativity and imagination. Delightful
and deeply thought provoking reading." – Clint Brooks, former Senior
Advisor for Homeland Security and Assistant Deputy Director, NSA
"In his writing and speeches, Thieme has never let me down. Always
informative, relevant, unpredictable and thoroughly entertaining …
.one of the great thinkers of the cyber-world." – Larry Greenblatt,
InterNetwork Defense
You can purchase a copy of Mind Games at: CreateSpace. Autographed copies are also available from the author for
$22 ($20 + $2 postage) via email – rthieme@thiemeworks.com/PayPal or
via check sent to Richard Thieme @ ThiemeWorks, PO Box 170737, Milwaukee WI 53217.
=====================
Duncan Long is an illustrator who sometimes works as a graphic designer who does book layouts. His illustrations have been used by HarperCollins, PS Publishing, Pocket Books, Solomon Press, Fort Ross, Asimov's Science Fiction Magazine, and many other publishers and self-publishing authors. See more of his book illustrations at: DuncanLong.com
=====================